Team
We are really proud of our team.
We have brought together individuals with a wide variety of backgrounds, who all believe in our firm's approach to work and have a strong desire to help our clients achieve their goals. Our lawyers are commercially focussed with an in depth understanding of the industries in which they operate including IP law, IT and technology, commercial law and employment law.
Read our team profiles below or visit the contact us page for further contact information.
Support staff
Donna Falcini
Office Manager
Donna joined Waterfront in March 2017 and has worked in the legal industry for a number of years. Working closely with the firm's partners, Donna is responsible for the day to day running of the Waterfront headquarters. In this busy and varied role, she looks after everything from supplier contracts to human resources and compliance.
Why did you decide to join Waterfront?
I have worked in various roles within the legal industry ( Crown Court Clerk, Magistrates Court Officer, Law firm Office Manager) and I wanted to work in a legal firm where I can make a difference using the experience that I already have but at the same time be encouraged to learn and gain further skills too; the description of the role of Office Manager at Waterfront ticked every box. There is a great and knowledgeable team of people behind Waterfront, it's a busy but friendly place to work and I enjoy being part of it!
What piece of tech could you not live without?
My I phone – it keeps me entertained on the train into work.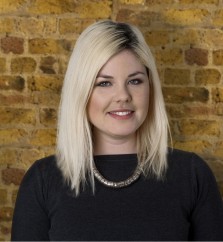 Chloe Faulkner
Marketing Manager
Chloe joined Waterfront in July 2016 as Marketing Manager. She worked for 3 years as an executive at a mid-sized firm handling everything from business development, large scale social events, content writing, liaising with publications, designing collateral, developing advertising campaigns – one of which was on the underground. Other responsibilities included legal directory handling, representing the firm abroad at conferences and website maintenance. At her time at Clyde & Co she looked after the Intellectual Property team, Corporate & Corporate Insurance, while also working with Data Protection & IT.
Why did you decide to join Waterfront?
I knew I wanted to work closely with an intellectual property team again as IP is fast paced and so varied. My other desire was to work with a small firm where I could make my mark and make tangible contributions to their growth. When the position came up I could not believe how well it fitted the bill! It was evident from our first meeting that everyone here is really switched on, engaged and sincerely welcome new ideas – I couldn't be happier to have joined.
What's the most rewarding aspect of your job?
My most rewarding achievements are made when I leave my comfort zone. Finding that you are capable of taking on more than you thought, or reaching a level of success with a project you were previously inexperienced with, is what keeps me engaged with my work. So I would have to say -throwing myself in the deep end, learning from the experience and being able to approach the next challenge with confidence is what I find the most rewarding.
If you hadn't become a marketing manager what career would you have liked to pursue?
I studied Psychology with a view to becoming a research assistant straight from university. After a fashion event I started running during university really took off, I realised I wanted to pursue other career paths and gain some valuable life experience before endeavouring to study human behaviour. Post degree, I worked for the largest Mental Health law firm in the UK which was certainly eye opening! It is still my long term goal to work in research but for the foreseeable future I really enjoy working in business.
Kimberly Ama Gyambibi
Office Assistant
Kimberly Ama Gyambibi joined Waterfront in early 2017 to assist with the smooth day to day running of the office, and to provide admin support to the legal staff on an ad hoc basis. She works closely with the Practice Manager and also works provides support for the Marketing Manager.
What do you like about working for Waterfront?
The Biscuits! Just joking – it's the people. It's such a chilled and lovely environment, I have never worked somewhere where everyone is so friendly and helpful, so it really is a breath of fresh air.
What's the most rewarding aspect of your job?
The gratitude.
What do you like about being part of a team?
That you don't have to do things alone, there's always someone there to help when you get lost or confused.
What piece of tech could you not live without?
My IPhone! We have a love and hate relationship but it actually helps me every day to stay in contact with people, do my online shopping, it's my alarm, my social media updater, my maps - everything! I also love the Siri function which allows me to ask Siri to do things for me without even touching my phone.